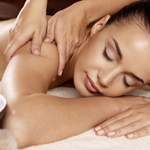 Swedish Massage = $40 / 30 Min or $70 / Hr:
Receive wonderful benefits from this massage, including an increase in circulation and joint flexibility.
Swedish Massage includes long flowing strokes, deep kneading and surface friction to help relax sore muscles.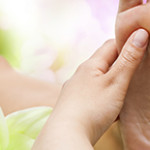 Foot Reflexology = $40 / 30 Min:
Our feet receive a punishment every day. You never know how much tension can be relieved through your feet.
Therapeutic pressure is applied to reflex points on the feet.
This pressure provides pain relief and increased circulation among other benefits.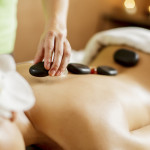 Hot Stone Massage = $80 / Hr:
Hot Stone Massage uses slow massage strokes along with the penetrating heat of warm and hot stones.
This is a very soothing massage technique!
Muscle tension melts away during this relaxing massage.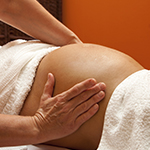 Prenatal Massage = $40 / 30 Min or $70 / Hr:
Enjoy a relaxing massage using our prenatal table during your pregnancy.
Let us help you relieve some of that back and belly tension that is common with pregnancy.
This massage provides the same benefits as a Swedish Massage.
Raindrop Therapy = $75 / Hr:
Using essential oils, massage, and energy work, Raindrop Therapy balances and rejuvenates you physically, mentally, emotionally and spiritually.
Deep Tissue = $80 / Hr:
Provides the same benefits as a Swedish Massage, but using deeper pressure. This massage focuses on the deeper layers of muscle and connective tissues.